What is Google Adwords?
Google Adwords is a form of Search Engine Marketing (SEM) or Pay Per Click (PPC) advertising which is offered by the search engine Google. Google allows businesses to advertise their products and services on the web and these ads appear when people search using Google.

How does Google Adwords work?
Businesses set up a Google Adwords account and then create ads for their products or services. Each ad is associated with a set of ??key words?? which are selected by the business. When someone does a search for one of these ??key words?? the Ad will appear in the search results. If the person doing the search clicks on your ad, Google charges you a fee, that is why it is called Par Per Click. If they don??t click on you ad, you don't pay anything at all.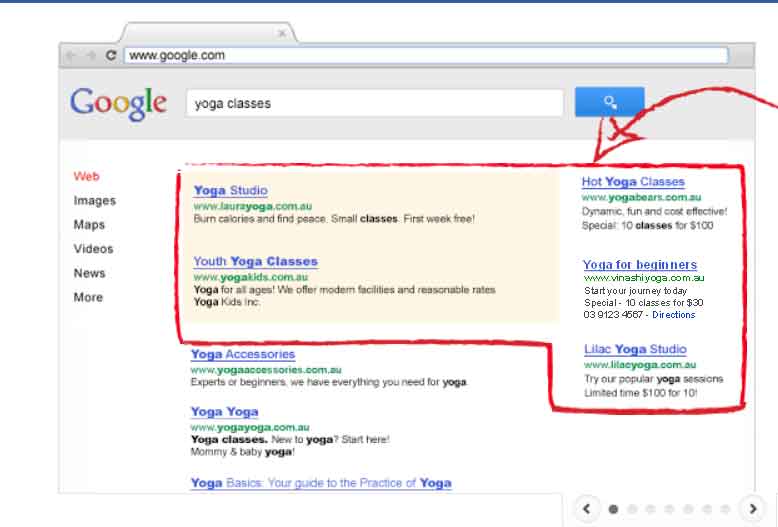 How much does it cost to run Google Adwords?

This is the best part. You can pay as much or as little as you like. You can choose to pay 20c per click, $1 per click, or $25 per click, in fact any amount you want. You can also set a daily budget, so you will never pay more than that amount. For example if you pay $1 per click and you have a daily budget of $5 per day, you will receive 5 clicks per day. You can also start, stop or adjust your budget at any time.

What sort of results can I get using Google Adwords?

If you want to be on Page 1 of Google, you can with Google Adwords, you just need to be prepared to pay more than your competitors. It is a competitive process so other businesses are bidding to get results on keywords as well.

How do I get started using Google Adwords?

Setting up a Google Adwords account can be complicated, but Solutions 4 Biz can help you. We are a Google Partner and have Certified Adwords Staff available to assist in setting up your account. We also offer every new account $100 worth of Free* Google Adwords advertising.

So why should I use Google Adwords for my business?


Get your web site found easily on the world's biggest search engine, Google.
Get page 1 results if you want to
Only pay when someone clicks on your ad (otherwise you pay nothing)
You can decide how much you Pay Per Click
You can set your daily budget and change it any time you want to
You will get $100 worth of Free* Google Adwords advertising when you set up a new account with Solutions 4 Biz
Do you already have a Google Adwords Account ?
If you already have an Adwords account, we can still help you.
Would you like a better (CTR) Click Through Rate ?
Would you like a lower (CPC) Cost Per Click ?
Would you like your ad to appear in a higher average position?
Do you want an improved Quality Score ?
Would you like more effective keywords ?
Do you want more conversions ?
If you answered yes to any of these questions, we may be able to help.
We will give you a FREE 30 minute audit for your Adwords account including some tips for optimising your account. If you like, we can even do the audit live with you and share valuable information about your Adwords account.


So what are you waiting for?

Fill in our Inquiry form and we can get started getting more traffic to your web site today.


Read what some of our customers say about us here
*Conditions apply